Michael Dellaporta
Dellaporta
Michael
×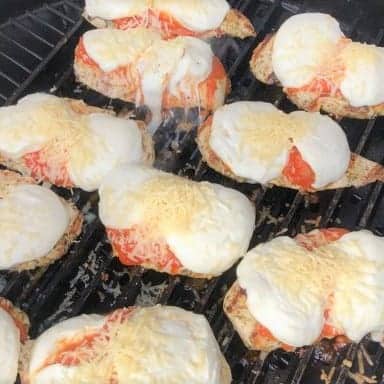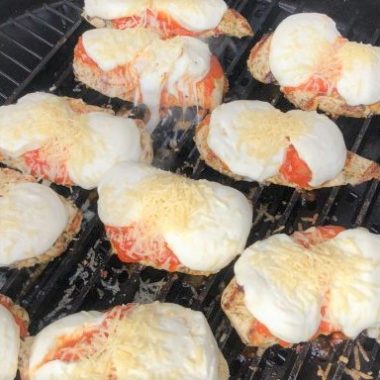 Chicken Parma Roll
Healthy grilled chicken breast have a wonderful outdoor smokey flavor before being topped with traditional chicken parma toppings of pasta sauce and cheese.
This version has the resulting chicken served in a roll which makes it easy to eat outdoors, but could easly be served with salad or vegetables to make it a meal.
This is an appealing recipe for a weekend camping weekend because although fresh and tasty, all the ingredients come vacume-packed or sealed jar making it travel and storage friendly.
Ingredients
Chicken
4 cloves garlic, finely diced
1 tablespoon Italian herb blend
1 teaspoon geek seasoning
Topping
2 cups marinara sauce (pasta sauce)
20 slices fresh mozzarella
1 cup shredded (grated) Parmesan
To Serve
10 long rolls, such as bolillo rolls
Equipment
Recipe Directions
Chicken

Preheat grill to medium high heat or about 600 degrees F (315 degrees C) at the GrillGrate surface.

In a large bowl combine the diced garlic, Italian herbs, Greek herbs, olive oil, and pesto.

Slice each chicken breast in half to create two even chicken cutlets/steaks. Add these to the seasoning blend and toss through to create an even coating of the seasoning.

Arrange the chicken cutlets evenly on the hot GrillGrates avoiding crowding. Close the lid of the grill and allow to cook for 7 to 8 minutes.

Topping

Heat the marinara sauce or red pasta sauce.

Open the grill then turn the chicken breast. Immediately add the heated marinara sauce, then top with the mozzarella slices and sprinkle with Parmesan cheese. Close the BBQ lid and reduce the heat to medium low or about 350 degrees F (180 degrees C) at the GrillGrate surface.

Tip: the cheese combination is one melting cheese (mozzarella) and one flavorful cheese (Parmesan). Knowing this you can substitute to cheese you have on hand or to your personal tastes. Melting cheeses such as Brie or Camembert, and flavorsome cheeses such as white sharp cheddar or smoked Gouda.

The chicken is ready when the internal temperature is at least 160 degrees F (71 degrees C) and the cheeses melted. If over cooked the cheese can melt too much and slide off the chicken, and lost forever.

To Serve

Slice the rolls in half. Open then add one of the cooked chicken parmas.
Michael Dellaporta
Dellaporta
Michael