Sweet and spicy, beef short ribs are smoked with hickory and applewood for a finger-licking good meal. The meat is falling-apart tender with a perfect crust that has a bit of crunch. The sauce has a surprise ingredient: mango nectar!
You can buy beef ribs in two different cuts: short ribs and back ribs. This recipe uses short ribs, which are taken from the chuck. This recipe is also delicious with lamb or pork ribs, though you will need to adjust the smoke time.
Short ribs can be served with any number of side dishes. If you want grains or starch, try polenta, mashed potatoes, or macaroni salad. Grilled vegetables are also quite tasty, like mushrooms and broccolini.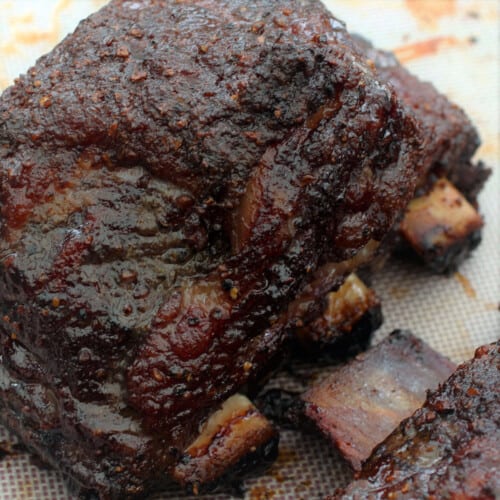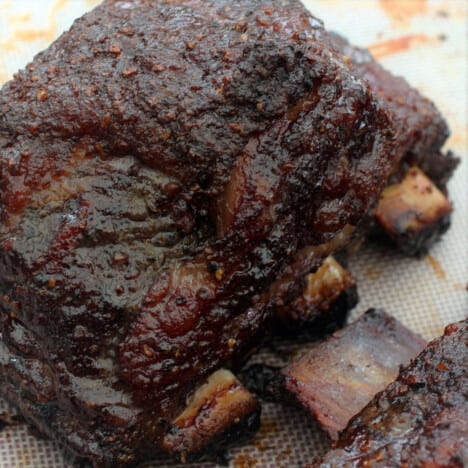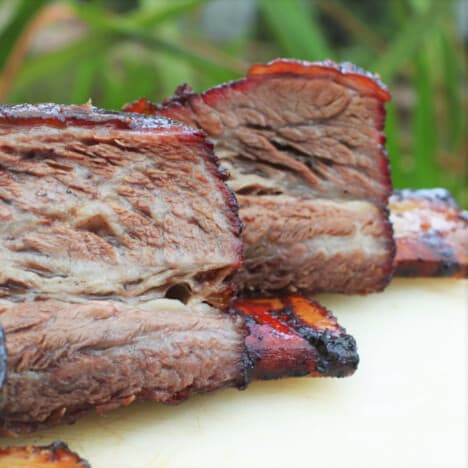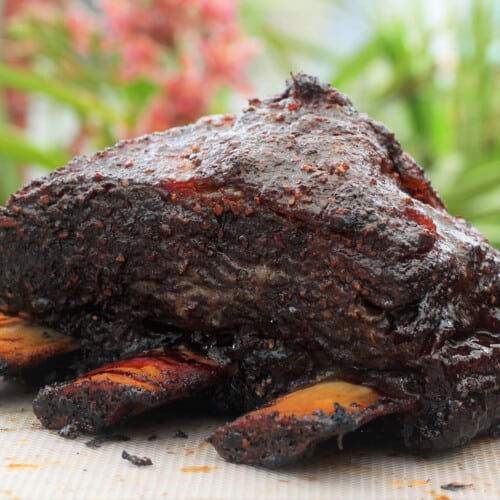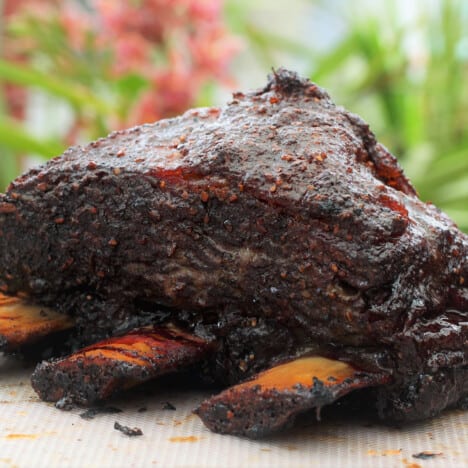 BBQ Beef Short Ribs Recipe
This recipe is sponsored by Slap Yo' Daddy.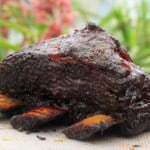 Sweet and spicy, beef short ribs are smoked with hickory and applewood for a finger-licking good meal.
Ready in
3

hours
20

minutes
Equipment
smoker

3 hickory wood chunks

3 applewood chunks

aluminum foil
Directions
Trim excess fat cap from the beef short rib.

Rub all the surfaces with mayonnaise. This will help ensure a tacky surface for the rub to stick and it also helps to tenderize the meat.

Apply enough rub on all exposed surfaces until you cannot see the meat underneath (a medium-heavy coat).

Let sit uncovered in the refrigerator for about 30 minutes.

Heat a smoker to 275 degrees F (135 degrees C). Once it gets to temperature, add three tennis-sized chunks of hickory wood and three tennis-sized chunks of apple wood.

Smoke the short ribs until the crust or bark is formed, 2 to 3 hours. Once the crust starts to form (about 90 minutes), spray the ribs with plain tap water from a spray bottle. Repeat the spraying every 15 minutes.

Once the crust has set, remove the ribs from the smoker and place them in the middle of a sheet of aluminum foil.

Sprinkle the dark brown sugar evenly on the ribs. Drizzle about 2 tablespoons of mango nectar over the ribs. Turn the ribs over and repeat the brown sugar and mango nectar on the other side.

Wrap the ribs tightly in the foil and return to the pit.

Check for tenderness using a bamboo skewer after 45 minutes by opening the foil. The skewer will go through like a muffin when it is done. If not yet tender, close the foil and check in 15 minutes. Keep checking until the meat is probe tender.

Remove when done and open the foil to vent (this step is very important else the ribs will overcook).
Nutritional Information
Calories:
704
kcal
Carbohydrates:
160
g
Protein:
3
g
Fat:
9
g
Saturated Fat:
2
g
Polyunsaturated Fat:
5
g
Monounsaturated Fat:
2
g
Trans Fat:
0.02
g
Cholesterol:
5
mg
Sodium:
603
mg
Potassium:
1195
mg
Fiber:
3
g
Sugar:
143
g
Vitamin A:
1384
IU
Vitamin C:
19
mg
Calcium:
407
mg
Iron:
11
mg
More Beef Short Rib Recipes
BBQ Smoked
Smoked Beef Short Ribs may lack the bone but they definitely do not lack any flavor, especially after being smoked…
BBQ Grilled Meat
These Korean-style kalbi grilled beef short ribs are a nice change to add to your barbecue repertoire. Initially marinated for…
BBQ Smoked
With a lot of Texas influence from a simple scratch rub to a homemade sauce, these smoked beef short ribs…