This Texas Full Brisket is prepared in the smoker for a meal that is falling-apart tender. Watch the video to see how Big Moe Cason prepares this flavorful cut.
After your brisket is cooked, always cut against the grain for the most tender slice. Score the brisket against the grain before you cook it, to help determine how to slice it after it is cooked.
After cooking the brisket, remove the point and turn it into burnt ends. Slice the point into cubes, toss it with your favorite BBQ sauce, and throw it back on the fire to caramelize.
Texas Full Brisket Recipe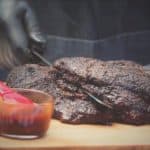 This Texas full brisket is prepared in the smoker for a meal that is falling-apart tender.
Ready in
12

hours
20

minutes
Ingredients
14

pound

brisket

canola oil

for coating

Big Moe Cason Beef Rub

or your favorite rub
Equipment
charcoal briquettes

butcher paper

aluminum foil
Directions
Prepare the charcoal and heat the grill to 225 degrees F (107 degrees C).

Trim the brisket of excess fat to about 1/8-inch (0.3 cm) and square the ends.

Rub the brisket with oil, then season generously with the rub. Let it sit at room temperature for 1 hour.

Place the brisket on the heat. Once it reaches 160 degrees F (71 degrees C), wrap it in butcher paper and then aluminum foil. Place back on the heat.

Remove the brisket from the heat at 200 degrees F (93 degrees C) and let rest to allow juices to redistribute. Slice against the grain and serve.
Nutritional Information
Calories:
820
kcal
Protein:
110
g
Fat:
39
g
Saturated Fat:
14
g
Polyunsaturated Fat:
1
g
Monounsaturated Fat:
18
g
Cholesterol:
328
mg
Sodium:
418
mg
Potassium:
1746
mg
Calcium:
26
mg
Iron:
10
mg
BBQ Smoked
A brisket flat is the easiest and most economical way for most people to buy brisket. A smoked brisket flat…
BBQ Griddle
A po'boy is a traditional sandwich from Louisiana. It typically consists of fried seafood or meat, such as roast beef.…
BBQ Smoked
This unusual dish of brisket burnt ends uses just the point of the brisket, not the whole cut. Ask your…