The Picanha -style of meat originates in Brazil, but this version has a few unique twists on it before being served with a chimichurri sauce. The chimichurri sauce is packed with fresh herbs, like parsley, cilantro, and oregano. 
Picanha is sold around the world under different names. You might find it as a rump cap in Australia and the United Kingdom, as well as a sirloin cap in the United States of America. They are often bent in a horseshoe shape, skewered, then cooked. 
The injection in this recipe uses Vegemite, which is a more natural source of umami, unlike processed MSG. If this is something that you can't easily access then substitute it with more beef stock cubes or powder.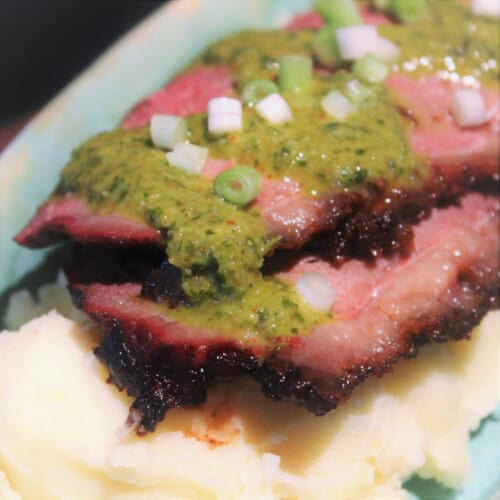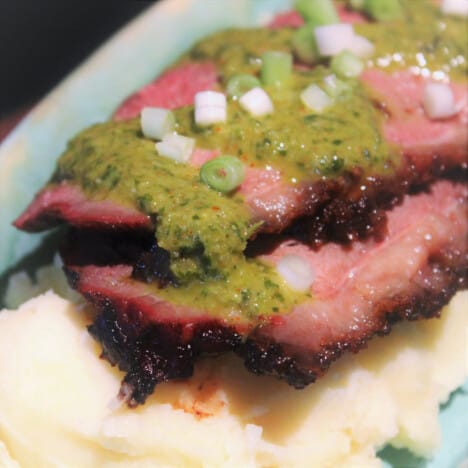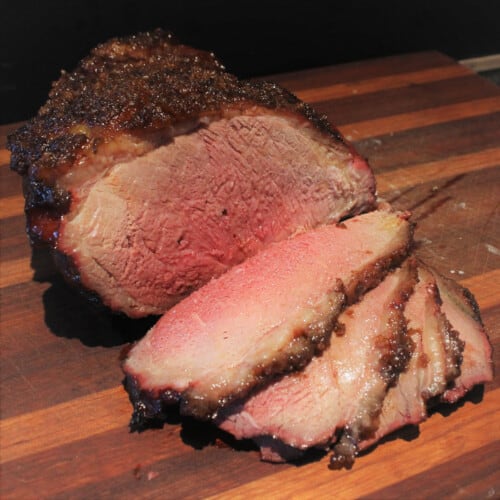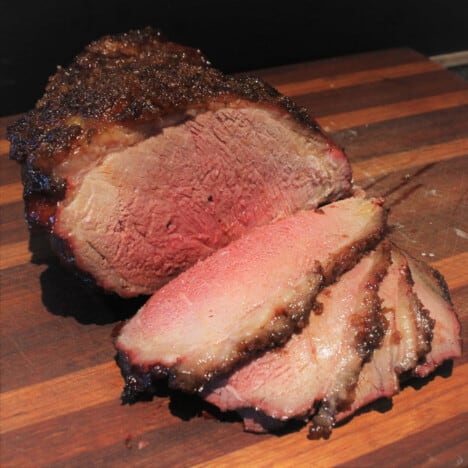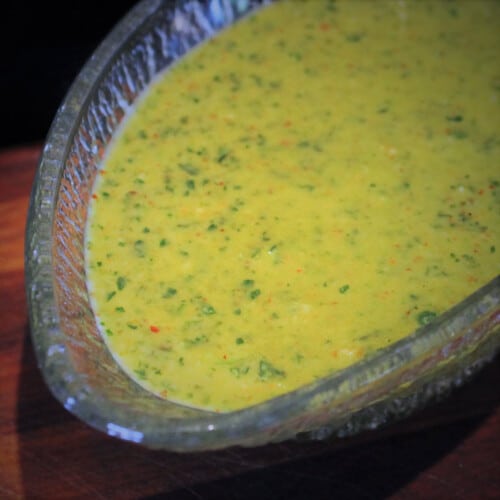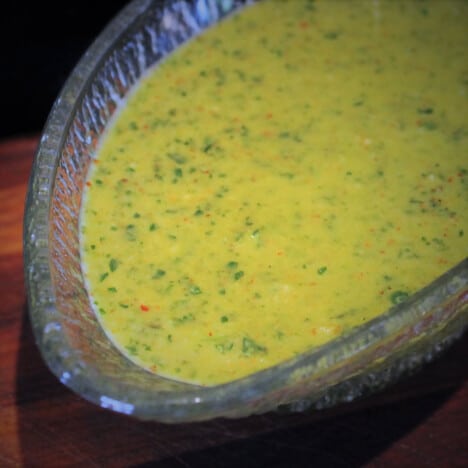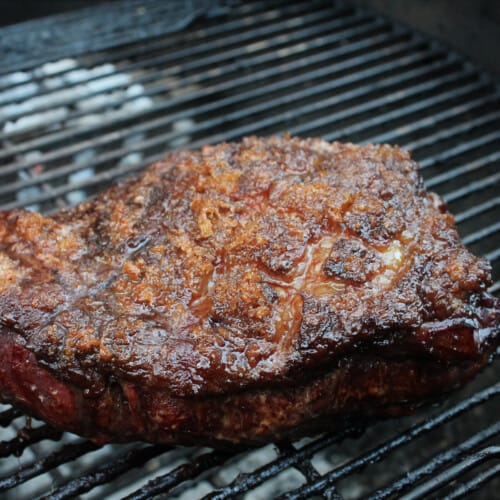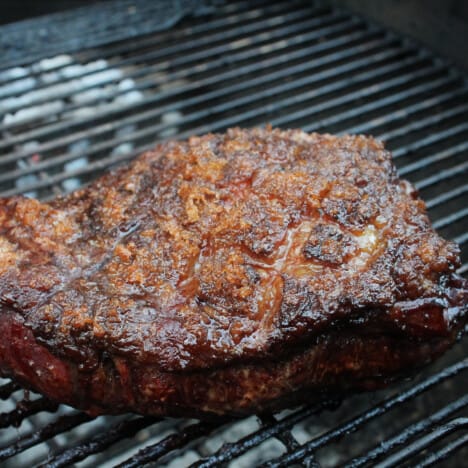 Picanha with Chimichurri Recipe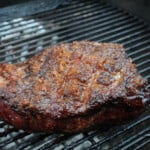 The Pincanha-style of meat originates in Brazil, but this version has a few unique twists on it before being served with a chimichurri sauce.
Ingredients
Beef Injection
1

cup

boiled water

1

teaspoon

vegemite

1

cube

beef stock

1

teaspoon

garlic powder

1

teaspoon

onion powder

1

teaspoon

sweet paprika
Picanha
3

pounds

picanha

(also known as a rump cap or sirloin cap)

sea salt flakes

to taste
Chimichurri
1/2

cup

red wine vinegar

1

teaspoon

sea salt flakes

4

teaspoons

minced fresh garlic

3

shallots,

finely chopped

1

jalapeño

finely chopped

1

teaspoon

smoked chili powder

1/2

cup

cilantro

finely chopped

1/4

cup

flat-leaf parsley

finely chopped

4

tablespoons

fresh oregano

finely chopped

3/4

cup

extra virgin olive oil
Directions
Beef Injection
In a heatproof bowl add the boiled water with the vegemite and beef stock. Stir until completely dissolved.

Stir in the garlic powder, onion powder, and sweet paprika. Let cool to room temperature before injecting.
Picanha
Crosshatch the fat cap on the picanha with a knife about 1/4-inch (1cm).

Inject the meat with the injection piercing the meat about every 1/2-inch (2 cm) to ensure it is well distributed.

Pat the entire piece of meat dry with a paper towel including any overflow injection. Then salt heavily and rub it into the meat. This step may be repeated as this cut of meat and style of cooking is traditionally very salty.

Set up the barbecue for indirect cooking or use a smoker. Pre-heat to 225 degrees F (108 degrees C).

Add the picanha to the barbecue and cook for approximately 3 hours. The time is approximate and may change with the weight, thickness, and start temperature of the meat as a few variables. Use a thermometer to regularly check the temperate to get to your preferred doneness.

At 3 hours, or when the internal temperature reaches 130 degrees F (55 degrees C), wrap the meat in foil. Then wrap it in a dry towel and place it in a dry warm cooler to rest for 1 hour.
Chimichurri
While the picanha is cooking, add the vinegar, salt, garlic, shallots, jalapeño, chili powder, coriander, parsley, oregano, and olive oil into a blender. Pulse the blender until well combined and smooth. Move to a serving dish and chill until needed, letting it rest helps the flavors combine.
To Serve
Slice the picanha about 1/4-inch-thick (1cm). Lay the slices out then drizzle with the chimichurri sauce.
Nutritional Information
Calories:
867
kcal
Carbohydrates:
10
g
Protein:
77
g
Fat:
57
g
Saturated Fat:
12
g
Polyunsaturated Fat:
5
g
Monounsaturated Fat:
36
g
Cholesterol:
208
mg
Sodium:
849
mg
Potassium:
1420
mg
Fiber:
4
g
Sugar:
2
g
Vitamin A:
969
IU
Vitamin C:
13
mg
Calcium:
205
mg
Iron:
9
mg
BBQ Smoked
This is all about the sauce! Beef with Chimichurri is a basic cooked steak topped with an amazingly fresh blend…
Gas Stove
When looking for the ideal accompaniment for your next BBQ this steak pepper sauce should make the shortlist. It is…
Camp Cooking
Mushroom sauce is a wonderful accompaniment served with steak which complements not overpowers the beefy flavors. Quick and easy to…