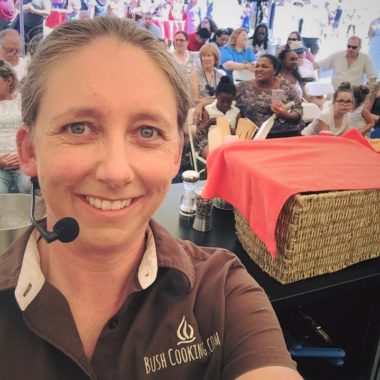 Classes by Saffron
Saffron – Team Captain of competition outdoor cooking team 'Bush Kitchen', food competition judge, Content and Outreach Manager of BushCooking.com and general outdoor cooking evangelist also runs outdoor cooking classes!
Classes can be custom or based on one of the following for that she has run for groups such as REI, PCC and the Scout Association.
If you would like to host a class, please email Saffron directly for availability, costs and similar.
Steak Your Way
2 1/2 hours
The goal of this class is to give a wide range of background knowledge into the variables of steak cooking so that you can make decisions based on you likes, dislikes, budget, cooking equipment and similar to create the ideal steak to your taste buds.
Course Structure
Introduction
– Sample a range of various steaks then discuss what you like/dislike and reasons that this may be
Selecting
– Discussion on various cuts
– Discussion on meat grading and selection considerations
– Feeds, heritage and beeds
Seasoning
– Salt and steak
– Season before vs after cooking the steak
– Complementary flavors
– Marinades, rubs, braises, butter and sauces
– Aging steaks
Cooking
– The sear (aka maillard reaction)
– Target doneness and carry-over cooking
– Discuss various ways to cook a steak
– Discuss resting steaks
– Hands on cook flip method, reverse sear, sear & rest, and 'traditional'
– Sample and discuss all the cook methods
Bonus (optional)
– Competition steak cooking specific discussion
Overview of Smoking
6 to 10 hours
The goal of this class is to run through the full range of variables of smoking and discuss the impact of each choice on the outcome of meat. This class can be run with a focus towards the backyard cook or competition cooking.
Course Structure
Introduction
– General understanding of who is in the class
– Run through the program for the day
Variables
– Smoker Types – off-set, upright, wood, pellet, etc.
– Wood Types – hard woods, fruit wood, alternatives, etc.
– Meat Selection – type, cut, grade, age, etc.
– Meat Preparations – injections, marinades, rubs, aging, etc.
– Cooking Temperature – low & slow vs hot & fast
– Happening During Smoking – the 'stall', wrap?, etc.
– When Cooked – glaze, rest, etc.
Introduction to Camp Cooking
2 hours
– Introduction
– General 'What to cook when camping"
– Discussion on nutrition
– Discussion on transportation
– Discussion on safe storage of food
– 'Heavy' camping vs 'light-weight' camping
– Fire vs gas cooking
– Boiling & frying vs baking & roasting
– Cooking with kids
– General tips and tricks
Introduction to Dutch Oven Cooking
2 hours
– What is a Dutch Oven? – Types, features, construction, etc.
– Care and Maintenance – Seasoning, cleaning,. storing , etc.
– Heat Sources – Gas, open fire, charcoal, etc.
– Heat Management – heat transfer, hot-spots, etc.
– Cooking Methods – Boiling & frying vs baking & roasting
– General tips and tricks